They keep the dream alive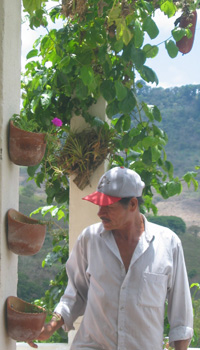 Everything starts with a dream… Francisco Velásquez had a dream about a place to live in the country-side away from the hardships in the city of Esteli, where he had lived most of his adult life. Today, Francisco Velásquez lives at Seguir Soñando. Here, his horse, El Rojo, grazes and his chicken lay their eggs, and he cultivates enough beans and maize for his own annual consumption.
Anielka Velásquez had a dream about meeting new people, more education, and providing for herself. Today, Anielka Velásquez takes care of Casa Seguir Soñando and the arriving guests, and she has returned to school. After weekend high school she has completed a field based ecological agriculture and homegardening education, has married and they have 2 daughters.