Partners
Café Sueños was during the first 6 years roasted and sold by the Copenhagen micro-roasting company, Risteriet, which is located at Studiestræde 36 (see www.risteriet.dk). In July 2016 Rune, the primary toaster and co-owner of Risteriet, visited us on the island of Bornholm and helped us explore our roaster to get the most and the finest out of our beans. We are grateful for his sharing of proven experiences with our and many other fine beans.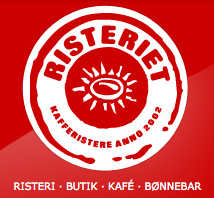 Risteriet believes that freshly roasted coffee beans make a world of difference in your coffee cup, especially when the freshly roasted beans are of the finest quality.
Prodecoop is a second-order cooperative, which means that it comprises 40 coffee-producing cooperatives. Prodecoop dries, sorts, and removes the thin parchment-like skin (el pergamino) from Café Sueños, and transports the sacks to the shipping harbour. Prodecoop is organically certified and bases its production on the principles of fair trade. Their website is prodecoop.com.